Today is - Thu Sep 21 2023
Bomb Squad
Kern County Sheriff's Office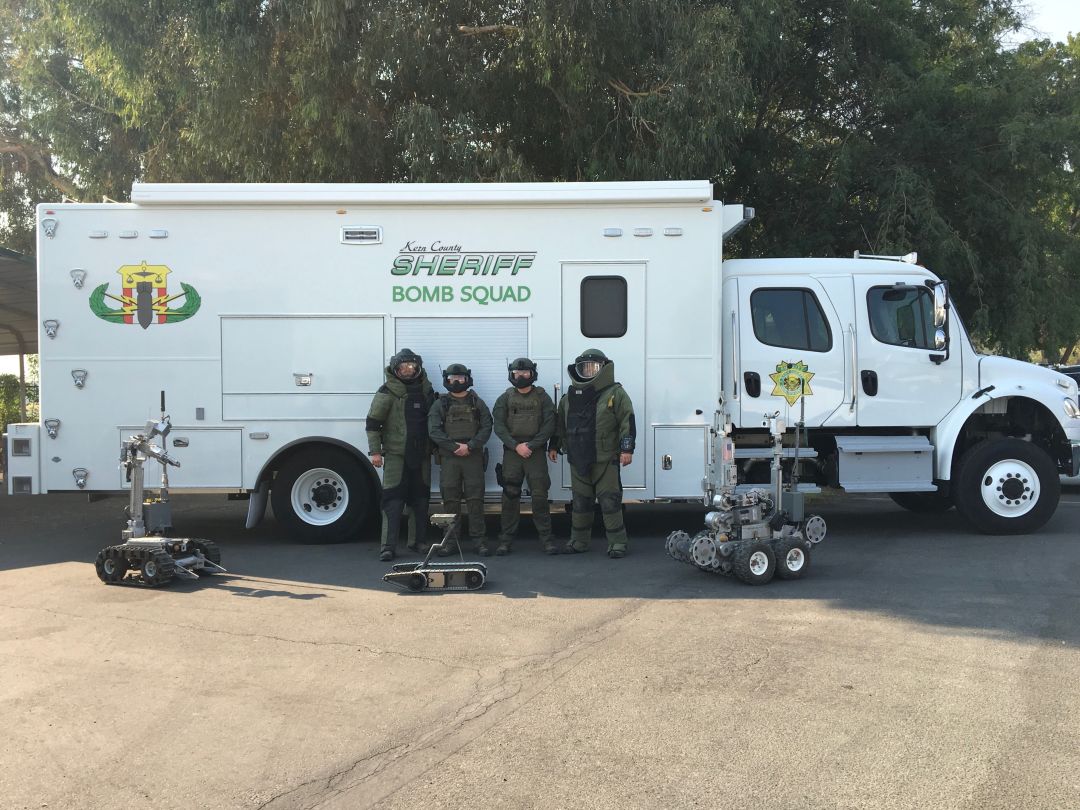 What We Do
The Kern County Sheriff's Bomb Squad is responsible for rendering safe suspected or actual explosive devices, and the safe disposal of deteriorated explosives, commercial explosives, homemade explosives, military ordnance, and improvised or illegal fireworks. Other duties include post-blast investigations, providing educational presentations for business and government, and the Kern Regional Training Academy. The Bomb Squad also provides in-service training for Deputy Sheriffs. The Bomb Squad responds to 40-60 callouts per year.
The Bomb Squad accomplishes its mission through hundreds of hours of training, and the use of sophisticated equipment. Training courses for Bomb Technicians include but are not limited to:
Six-week FBI Hazardous Devices School (HDS), Redstone Arsenal, Alabama
Hazardous Materials (Haz-Mat) for Bomb Technicians
Basic Post Blast Investigation
Advanced Post Blast Investigation (Large Vehicle Bomb Post Blast)
Large Vehicle Bomb Countermeasures Course
ATF Advanced Explosives Destruction Techniques Course
Domestic and International Terrorism
Annual international and regional training conferences
Explosive Breaching Course
Every three years, each Bomb Technician returns to Redstone Arsenal for recertification.
Through their membership with the International Association of Bomb Technicians and Investigators (IABTI), bomb technicians maintain a close working relationship and share information with other bomb technicians from approximately 60 countries throughout the world.
Bomb Technicians are required to be knowledgeable in explosives theory and electronics, detail oriented, calm under pressure, and have tons of common sense with a significant ability to perform critical thinking.
Bomb Squad Members
Sergeant William Malloy (Bomb Squad Commander)
MalloyW@KernSheriff.org
Sergeant Ethan Plugge (Bomb Technician)
PluggeE@KernSheriff.org
Sergeant Eliseo Tafoya (Bomb Technician)
TafoyaE@KernSheriff.org
Senior Deputy Erik Cervantes (Bomb Technician)
CervantesE@KernSheriff.org
Deputy Sheriff Charles Leask (Bomb Technician)
LeaskC@KernSheriff.org
Deputy Sheriff Nathan Pucilowski (Para-technician)
Pucilowski@KernSheriff.org
Deputy Sheriff Benjamin Morales (Para-technician)
MoralesB@KernSheriff.org

Past Bomb Technicians with the KCSO Bomb Squad
Investigator Gordon Day (retired)
Sergeant Glen Johnson (retired)
Deputy Sheriff Tony Chavez (retired)
Sergeant James "JC" Plank (retired, Former Bomb Squad Commander)
Chief Deputy Christopher Speer (retired)
Deputy Sheriff Ralph Dransoff (retired)
Sergeant Dustin Downey (retired)
Deputy Sheriff Bryce Patterson (retired)
Commander Tim Melanson (retired, Former Bomb Squad Commander)
Deputy Sheriff Brian Carr (retired)
Sergeant Sean Pratt (retired)
Undersheriff Brian Wheeler (retired)
Deputy Sheriff James Vasquez (retired)
Chief Deputy James Morrison (retired, Former Bomb Squad Commander)
Deputy Sheriff Benjamin Harmonson
Senior Deputy Dennis Coffee

History
The Kern County Sheriff's Bomb Squad was established in 1975. The team originally consisted of two members and virtually no specialized equipment. Investigator Gordon Day attended the Hazardous Devices School (HDS) at Redstone Arsenal in Alabama in 1975, and Sgt. Glen Johnson attended in 1977.
For many years, the two responded to hundreds of calls with only a basic toolbox and their knowledge of explosives. Render-safe procedures of suspected bombs consisted mostly of "hand-entry" techniques. The squad eventually improvised their own water cannon using a piece of lead pipe, a modified shotgun shell, and plumber's putty. As with today's advanced disrupters, they used the cannon to blast open suspicious packages.
The squad doubled in size in the mid 1990's and from a government grant purchased their first x-ray machine and bomb suit. In 2000 the squad purchased their first Bomb Squad Response Truck and two years later obtained their first robot.
In 2007, the Sheriff's Office matched grant funds and purchased a state-of-the-art Andros F6A robot, complete with remote control capability and four cameras.
Today, the Bomb Squad uses much more sophisticated equipment than was available to bomb technicians of the past. However, current technicians are very grateful for the lessons learned by those early technicians. We strive to stay current on emerging threats and trends and are committed to keeping the public and law enforcement safe.
Equipment
Tools and equipment used by Bomb Technicians are state-of-the-art and costly. Some are purchased through grants like the two 80 lbs bomb suits. Other equipment is issued by the FBI or purchased by the Sheriff's Office. Standard Equipment used by Bomb Technicians include:
Bomb Truck
Robots
X-Ray
Containment/Transport Trailer
Disruptors