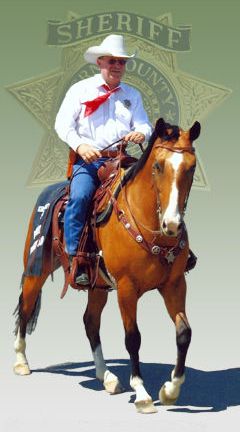 Donny Youngblood
Sheriff / Coroner / Public Administrator
In 2006, following a campaign fought on the issues of leadership and experience, the citizens of Kern County elected Donny Youngblood to the Offices of Sheriff-Coroner-Public Administrator.
Sheriff Donny Youngblood is a life-long native of Kern County. He attended East and West High Schools, and graduated from Bakersfield College.

He enlisted in the United States Army in 1968, serving 14 months in South Vietnam. Following his return stateside, he spent his last year in the military as an Army Drill Sergeant preparing young men to defend the United States of America. He left the military service in 1971.

Sheriff Youngblood joined the Kern County Sheriff's Department in 1972 as a Correctional Officer assigned to the Lerdo Facility. Two years later, he entered the Basic Academy to begin training to become a Deputy Sheriff.

During his 45+ -year career with the Sheriff's Department, Sheriff Youngblood worked in all areas of the department. His duty assignments included the Patrol Division, Court Services, Narcotics, Boron Substation, East Kern Substations Commander, Watch Commander, Air Support Division Commander, and Detectives.

Sheriff Youngblood obtained a Bachelor of Arts Degree in Administration of Justice and a Master's Degree in Public Administration from Golden Gate University. He is an alumnus of the 144th class of the FBI National Academy, and is also a graduate of the POST Command College.

Sheriff Youngblood holds a commercial pilot's license with instrument and multi-engine ratings. He is also an avid golfer, hunter and horseman.


Our Mission
The Kern County Sheriff's Office is committed to work in partnership with our community to enhance the safety, security, and quality of life for the residents and visitors of Kern County through professional public safety services.