Today is - Thu Sep 21 2023
Minimum Security
Kern County Sheriff's Office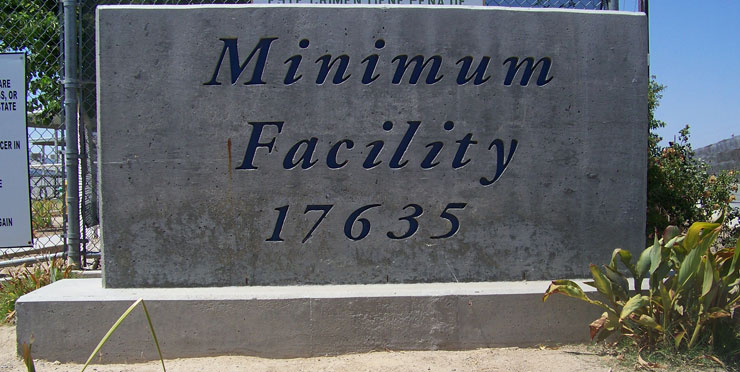 Mailing Address & Contact Information:
Inmate's Name and Booking Number | Lerdo Minimum Facility | 17635 Industrial Farm Road Bakersfield, CA 93308 | (661) 391-7802
Visiting Hours and Rules
Any and all physical contact during visiting is prohibited.
Any contact between visitors and inmates regardless of type, will result in termination of the visit.
Inmates shall be allow one visit, of at least one hour, per week. Each inmate will be allowed a total of four visitors per table. At the discretion of the on duty supervisor, family members may swap out with additional visitors during their allotted hour as long as all other visiting requirements are met. Time will not be added to the visit to accommodate visitors over the four person limit. Additionally, it is the responsibility of the visitors, not security staff, to keep track of their time remaining if they are requesting to share their hour with more than four people.
All visitors will be seated on the side of the table labeled "visitors". Minors will remain seated at the table with their parent/guardian.
Infants and children will not be placed, sit, or stand on top of the tables.
All approved items brought in by visitors will be placed on the bench next to them or on their person, not on top of the table. The table top is to remain clear.
Proper identification is required of all visitors to the Lerdo Minimum Facility. Acceptable identification:
Valid non-expired Driver's license with photo
Any U.S. state or federal government issued photo identification
Photo passport
All visitors shall register at the visiting booth and provide identification. Any visitor without proper identification will be denied visitation privileges. Proper identification shall be official picture identification. All visitors (16) years and older will be required to have proper identification. All visitors under (18) years of age must be accompanied by an adult (18 years or older) (this adult must be a parent or legal guardian). High school students may use their high school identification cards.
All visitors are expected to abide by the facility rules. Anyone not following these regulations will lose their visitation privileges. Visiting regulations will be posted in a place accessible to the inmates and the public. Visitors and inmates will visit only at their assigned table. Failure to do so will result in termination of the visit.
Visitors are allowed to bring in the following items only
Identification
One (1) individual vehicle key and/or remote
One (1) infant diaper and wipe in a clear see through bag
One (1) clear infant bottle
One (1) infant blanket
Guardianship documentation and/or paperwork approved by the on duty supervisor
Life saving physician prescribed medication with approval of the on duty supervisor (i.e. epi-pens, asthma inhalers, nitroglycerin).
Absolutely NO food, gum, drinks, toys, gifts, wallets, purses, cell phones, electronic devices, or money will be allowed in to the visiting yard. Any visitor bringing in unauthorized items will be asked to leave the facility and return during the inmate's next eligible visiting time.
Once visitors are admitted in to the visiting area, they will not be allowed to leave and return the same day. Exiting the visiting yard for any reason indicates the end of the visiting session.
Visiting Yard Dress Code
Visitors will be denied entrance in to the visiting yard wearing any of the following clothing:
Short/Mini skirts
Short shorts
Excessive torn clothing
Midriff shirts
Spaghetti strap tops or dresses
Tank Top shirts
Low cut/Scoop neck shirts
Excessive, unsafe and/or oversized jewelry that could pose a security risk
Anything that shows undergarments, see through and/or revealing clothing
Anything with obscene material and/or gang references
Any clothing or lack thereof deemed inappropriate by the Shift Supervisor will not be allowed.
Visiting by Ex-Felon (PC 4571):
All persons requesting visiting privileges at Pre Trial, who have been previously confined in a State or Federal Prison, must obtain written permission from the facility Lieutenant or his designee, prior to being granted access. If approval is granted, you must have it in your possession while at the Lerdo Complex. To download the form, click here.
The visiting week will begin on Saturday and end on Sunday. Visiting times are by the last name of the inmate to be visited.
The Minimum Facility bus will transport visitors to the visiting yard from the Lerdo main Gate parking lot. The bus begins transporting at 7:30 A.M. and 12:30 P.M. on both Saturday and Sunday. Transportation continues until the last bus times listed below. If visitors fail to make the last bus times, they will not be allowed to enter the facility for visiting and must wait until the inmate's next eligible visiting time.
Contact Information
| Elegible Inmates | Days of Week | Time of Day | Last Facility Bus |
| --- | --- | --- | --- |
| A thru H | Saturday | 7:30 am to 10:30 am | leaves @ 8:45 am |
| I thru Q | Saturday | 12:30 pm to 3:30 pm | leaves @ 1:45 am |
| R thru Z | Sunday | 7:30 am to 10:30 am | leaves @ 8:45 am |
| Females visit | Sunday | 12:30 pm to 3:30 pm | leaves @ 1:45 am |
Inmate Telephones
Securus Tech. can be reached at 1-800-844-6591
Receiving Money
Money may be deposited to an inmate's account at any time via the Kiosk located at the Central Receiving Facility or Lerdo Max-Med Facility. Please allow up to 24hrs for the money to post to the inmates account if depositing cash and from 24-72hrs if using a credit or debit card. You may deposit money over the phone by calling 1-866-232-1899, the facility # is 293301. You may deposit money online at: www.accesscorrections.com. A processing fee does apply and varies dependent upon the amount deposited. Money orders are to be mailed to P.O. Box 3182, Coppell, TX 75019.
Releasing Inmate Money and/or Property
Property releases at this facility are conducted Monday thru Friday 07:00am-2:00pm
Inmates may release their money and property to any out of custody person, if the person possesses a U.S. government or U.S. State government issued picture identification.
Money or personal property may be released completely or partially at any time of the day or night with the inmate's approval. The shift supervisor may postpone a release if the release will interfere with court pulls, meal passes or sick call.
Mail Rules: Rules for mail coming into the facility are as follows
Effective June 1, 2018, Inmates housed in KCSO Detentions Facilities will no longer be allowed to receive greeting cards through the mail. This restriction is being implemented for the safety and security of the facilities.
All mail is inspected for contraband when it is received.
Money orders and cashier's checks are no longer accepted through the mail and will be returned.
Personal checks are not acceptable and will be returned to the sender.
No photographs, pictures or photocopies of photos will be accepted.
Books and magazines will only be permitted if they are sent to the inmate directly from the publisher.
The inmate is not allowed to receive any unused envelopes, stamps, or paper in the mail.
Letters and envelopes must be free from any white out, lipstick marks, address labels, or stickers of any kind.
No large cards, musical cards, cards with glitter or other items attached will be allowed.