Today is - Thu Sep 21 2023
Wasco
Kern County Sheriff's Office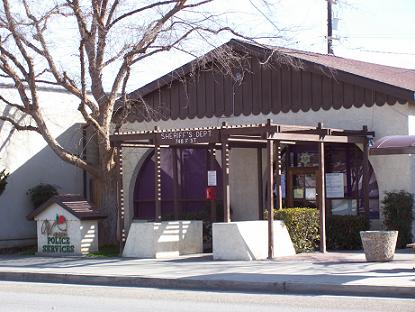 Wasco City Substation
748 F St.
Wasco, CA. 93215
Phone: (661) 758-7266
Fax: (661) 758-1653
It is not known how many resident deputies served in the Shafter-Wasco area from 1920 into the 1930s. In the 1930s, the first Sheriff's substation in the Shafter-Wasco area was established in an office in the courthouse at the northwest corner of 8th and E Streets in Wasco.
The deputy assigned to this area was responsible for the communities of Shafter and Wasco, and the rural areas north to King's County and west to San Luis Obispo County. Incorporation of the cities of Shafter (1938) and Wasco (1945) resulted in the formation of two police departments and reduced the workload for deputies to the rural areas surrounding those communities.
By 1957, the substation staff grew to three deputies and a sergeant. The Sheriff continued to occupy the courthouse office space until 1977. By this time, the staff consisted of a clerk, five deputies, two senior deputies, and a sergeant. Needing more space, the substation personnel moved to Shafter, operating from the courthouse building at 336 Pacific Street.
In 1981, the City of Wasco entered into a contract with the Sheriff for law enforcement services within the city limits. In addition to their other law enforcement duties, Sheriff's deputies began providing a full range of traffic safety services. All the officers of the defunct Wasco Police Department were brought into the Sheriff's Office. In 1984, deputies assigned to the Wasco City Substation became the first Sheriff's Office personnel to use radar for traffic enforcement. For a short time, the Sheriff's Office continued to operate the Wasco County Substation from the Shafter Courthouse, and the Wasco City Substation from the police department building at 764 E Street in Wasco. In early 1982, the two stations were combined in the Wasco police building. This facility was already too small for the clerk, 12 deputies, four senior deputies, sergeant, and lieutenant then staffing the station. The operation continued to work from this facility until 1985 when it was moved to the current location (748 F Street), a refurbished fire station at the corner of 8th and F Streets. This move brought the station directly across the street from the original substation of the 1930s.
The current population of the City of Wasco is over 25,000. The city encompasses approximately 4 square miles and includes Wasco State Prison. The Wasco City Substation is currently staffed by 1 Sergeant, 2 Senior Deputies, 15 Deputies, and 1 Sheriff Support Technician.